How to fix your hacked wordpress website - simple version
[
BACK
]
---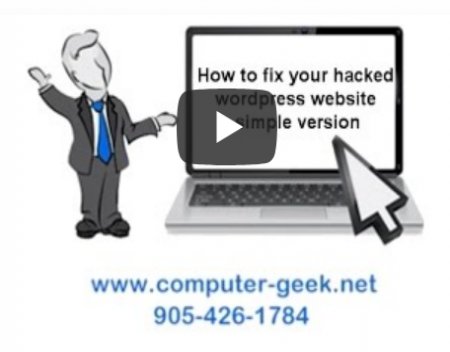 Posted On: January 9, 2017
This is a quick tutorial on how to fix your WordPress website when you have been hacked. This version assumes that you can access the WordPress admin.

First of all on the site I was repairing, my anti virus desktop software gave me a warning when I tried to navigate to the website. This is a pretty good indicator that there is something bad going on with the website.

Step 1 - Make a full backup of all your files and database to your desktop.

Step 2 - Navigate to the admin and see if that is working.

Step 3 - Update all the plugins that need to be updated.

Step 4 - Update all the themes that need to be updated. Be careful updating your main theme. Depending on how it was created, you can remove all your website formatting.

Step 5 - Update to the latest version of WordPress core files or re install the core files.

On this particular site, it fixed all the main malware issues and my anti virus software was happy again.

Step 6 - Install Word Fence free version and scan all your files. Remove any files that Word Fence doesn't like. Sometimes you cannot remove the whole file as there is bad code in a required file. This is why you need a full backup before you start.

Step 7 - After Word Fence is happy, it will notify you of any problems it finds. Make sure you keep up on your plugin updates.

If you still have a problem, call us and we can help.
---
[
BACK
]